Rosario Ortigao is a regular attendee of several professional monthly meetings such as the local Eye Movement Desensitization & Reprocessing professional group and, for years, the Energy Medicine study group, the Employee Assistant Program Association of Central Florida and the Play Therapy Association groups. In years past, she served as Education Chair and Member at Large for the Central Florida Marriage and Family Therapy Association and as Secretary for the Central Florida Mental Health Counselors Association. She has also served on the Board of Turning Point Of Central Florida, Inc.

Rosario Ortigao has been involved in several community volunteer capacities, namely, St. Margaret Mary's "Friends and Chicken Soup" and, currently, its Peace and Justice Ministry; below is a picture of their efforts to distribute snacks to families with young children living in a nearby motel (Lazarus Ministry).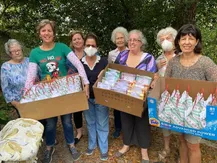 Rosario Ortigao has offered a series on "Couples Communication: Secrets You Cannot Afford To Miss" to the Orlando Brasilian Community and, for nine years, regularly contributed to a local Portuguese-Brasilian newspaper.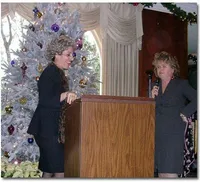 Rosario, playing Dr. Ruth Westheimer, at the Central Florida Association of Marriage and Family Therapy's annual holiday celebration.
Between 1997 and 2003, she could be heard weekly on Radio Paz, Orlando and, more recently, on Radio Alegria.
Rosario Ortigao has taught with the Orlando Catholic Diocese and at several colleges; a few years back, she contributed to Walden University's Masters of Counseling on-line program.
Over the years, Rosario has presented to numerous local organizations, namely, the Central Florida Behavioral Hospital, where 150 colleagues came to listen to how you can stay fit and feel great! ("Nutrition and Mental Health", how food choices may help with depression, adhd and weight control). This topic and several others have been shared by Rosario with the Central Florida Mental Health Counselors Association, the Central Florida Association of Marriage and Family Therapists and the Central Florida Play Therapy Association.
The following is a picture of Rosario being interviewed by TeleMundo: